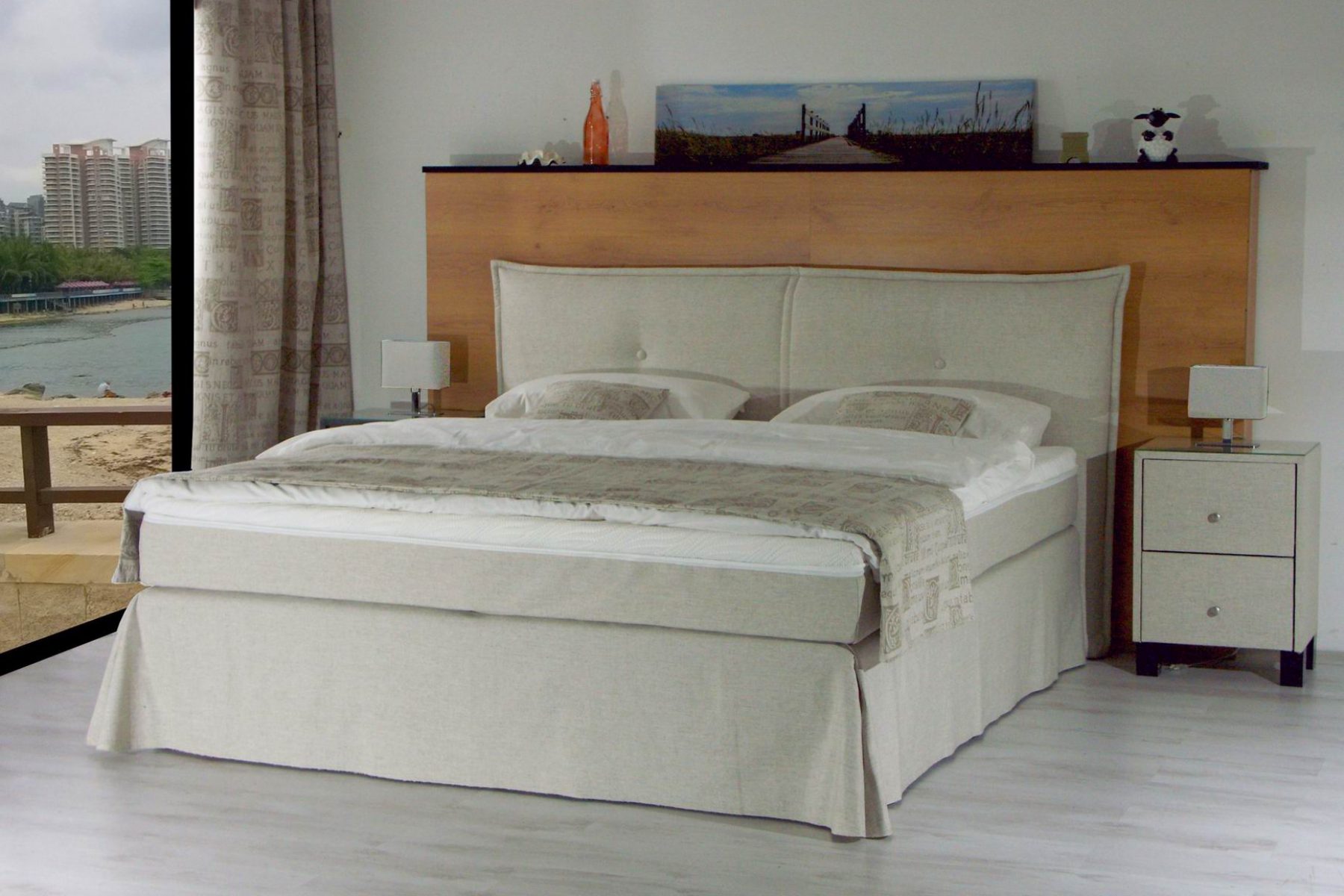 Boxspring system with selectable headboards/fabrics/mattresses/toppers/firmness
The box spring bed Natal is based on a stable frame of solid wood and chipboard. The base core lies in a wooden frame, also known as "Hardside Box" bekannt und wird oft im Hotelbereich eingesetzt. Durch die Holzumrandung erhält die Konstruktion einen festen Charakter.  Als Unterfederung ist ein 5-Gang Bonnellfederkern mit 2,4 mm Drahtstärke oder ein 7 Zonen Taschenfederkern wählbar. Die Unterkonstruktion steht auf 20 cm hohen Metallfüßen. Sie ist mit schwarzem Klettvelour bezogen, auf dem mit Klettband ein Skirting befestigt wird. Der Skirting kann gereinigt werden und ist mit wenigen Handgriffen montiert.
Our box spring mattresses with integrated or loose toppers are available to match. Choose between bonnell spring core, pocket spring core or multipocket mattress core. Decide on the appropriate degree of firmness H1 (soft) to H4 (firm) to match the upholstery to your feelings. As the mattresses are manufactured with two adjacent cores and a continuous topper from a bed width of 160 cm, the right degree of hardness can be selected for each side of the bed.
Due to the symmetrical construction of the mattresses, it can be turned like a standard mattress to increase its durability. The cover of the topper is removable and washable up to 60°C. Choose between different upholstery materials for the Topper to adjust the mattress to your personal lying sensation
Choose an upholstery fabric from our collection and find the right headboard to match your interior design. Special sizes or headboard shortening are possible for an extra charge.
Technical data
frame height: 40cm
Lying height: approx. 63cm (depending on mattress height)
headboard height: 115cm
Headboard width: mattress width+10cm
Total bed length: 212cm