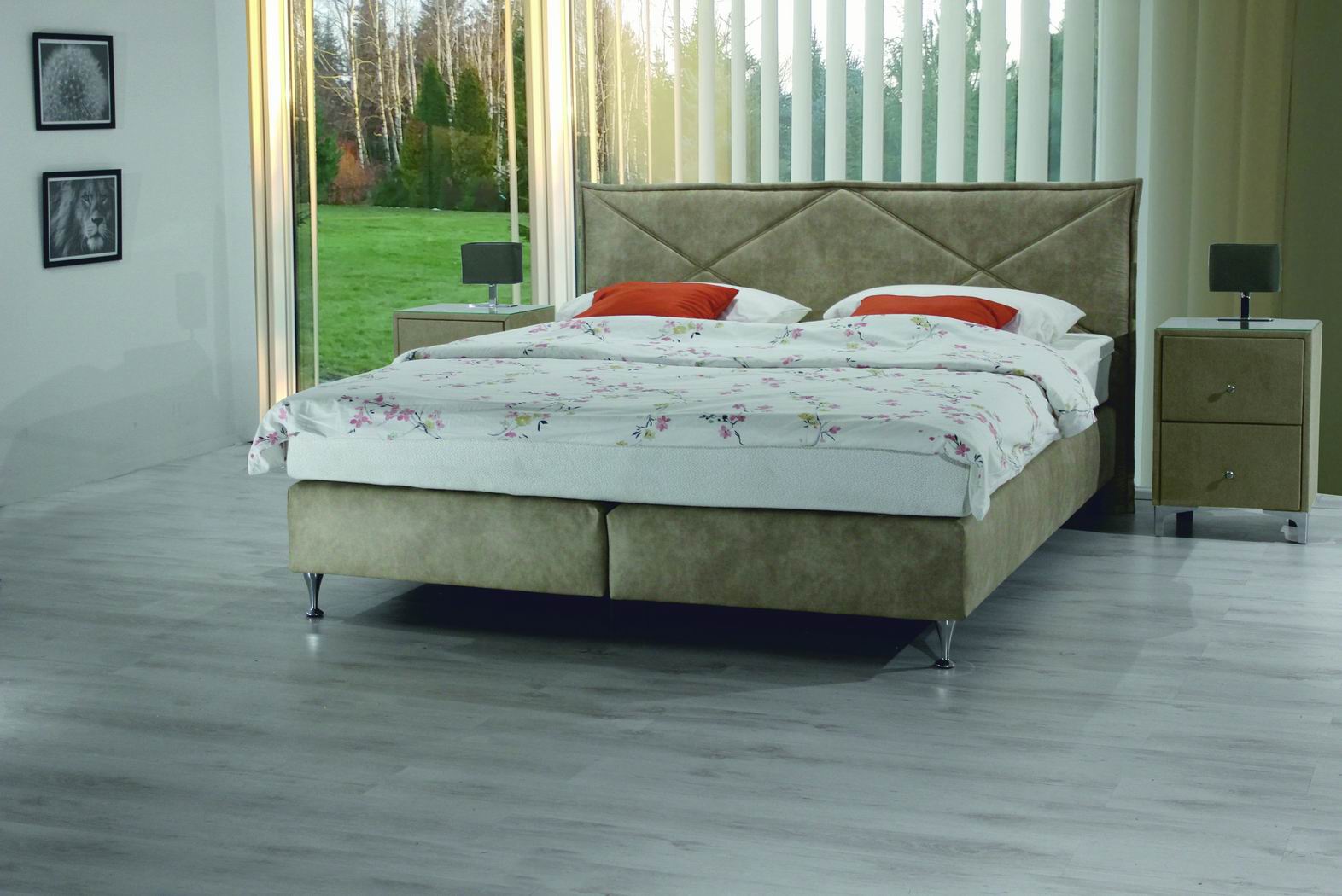 Box spring system with selectable headboards/feet/fabrics/mattresses/toppers/firmness
Das Boxspringbett Zermatt basiert auf einem stabilen Holzrahmen. Als Unterfederung ist ein 5-Gang Bonnellfederkern mit 2,4mm Drahtstärke oder ein 7 Zonen Taschenfederkern wählbar. Der Federkern der Unterkonstruktion ist in eine  Ummantelung aus PU Komfortschaum (RG35) eingebettet. "Softside Boxspring "Our box spring mattresses with integrated or loose toppers are available to match. Choose between bonnell spring core, pocket spring core, multipocket or HR foam core. Decide on the appropriate degree of firmness H1 (soft) to H4 (firm) to match the upholstery to your feelings. As the mattresses are manufactured with two separated cores and a continuous topper from a bed width of 160 cm, the right degree of firmness can be selected for each side of the bed.
Due to the symmetrical construction of the mattresses, it can be turned like a standard mattress to increase its durability. The cover of the topper is removable and washable up to 60°C. Choose between different upholstery materials for the Topper to adjust the mattress to your personal lying sensation
Wählen Sie einen Polsterstoff aus unserer Kollektion und suchen Sie sich das passende Kopfteil aus. Weiterhin haben Sie die Möglichkeit verschiedene Füße passend zu Ihrer Wohnraumgestaltung auszusuchen. Gegen Aufpreis sind Sondermaße oder Kopfteilkürzungen  möglich.
Technical data
Gestellhöhe: 36cm
Liegehöhe: ca. 58cm (je nach Matratzenhöhe)
Kopfteilhöhe: 105cm
Headboard width: mattress width+10cm
Bettlänge gesamt: 206cm