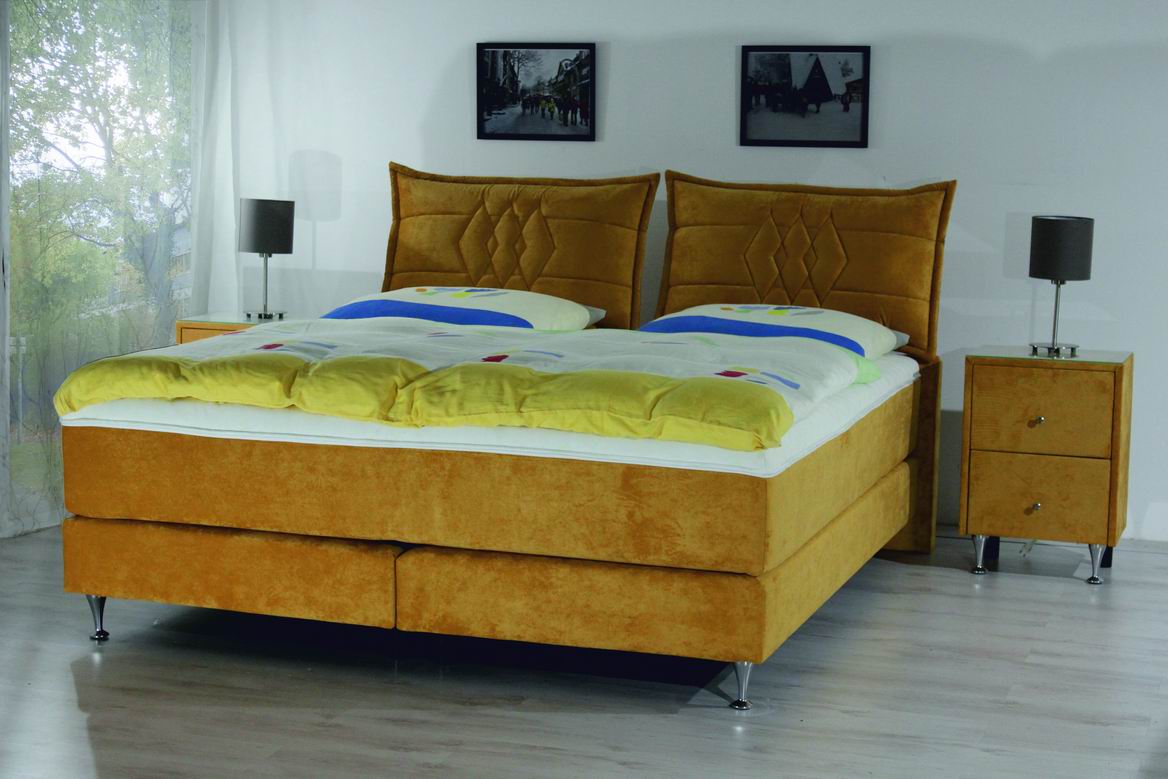 Box spring system with selectable headboards/feet/fabrics/mattresses/toppers/firmness
Sleep like in a first class hotel. The box spring bed Sevilla consists of a "Hardside base construction":A Bonnell spring core with 2.4 mm wire thickness or a 7-zone pocket spring core can be selected as spring base. The box gets a firm character by the firm border of the substructure, unattractive wrinkling in the upholstery fabric is prevented.
Kretschmar has developed a matching mattress type to match this flat bed corpus. A high pocket spring core with 8 turns creates a mattress core with a height of 25 cm. Two degrees of firmness are selectable. You can choose between loose topper, topper with slit and integrated topper. The total height of the mattress is 32 cm. From 160 cm width the mattresses are supplied with two separate cores and a continuous topper. This allows you to choose either H2 or H3 firmness per side of the bed. The high spring travel of the mattress core in combination with the topper creates a special upholstery effect. The large volume of the mattress core ensures optimal ventilation and a comfortable sleep.
Due to the symmetrical construction of the mattresses, they can be turned like a standard mattress to increase their durability. The cover of the topper is removable and washable up to 60°C. Furthermore, you can choose between different upholstery materials for the Topper to adjust the mattress to your personal lying sensation.
Choose an upholstery fabric from our collection and find the matching headboard. Furthermore you have the possibility to choose different feet to match your living room design. Special sizes and headboard shortening are possible for an extra charge.
Technical data
frame height: 30cm
Lying height: approx. 62cm (depending on mattress and foot height)
Kopfteilhöhe: 115 cm
Headboard width: mattress width+10cm
Total bed length: 212cm