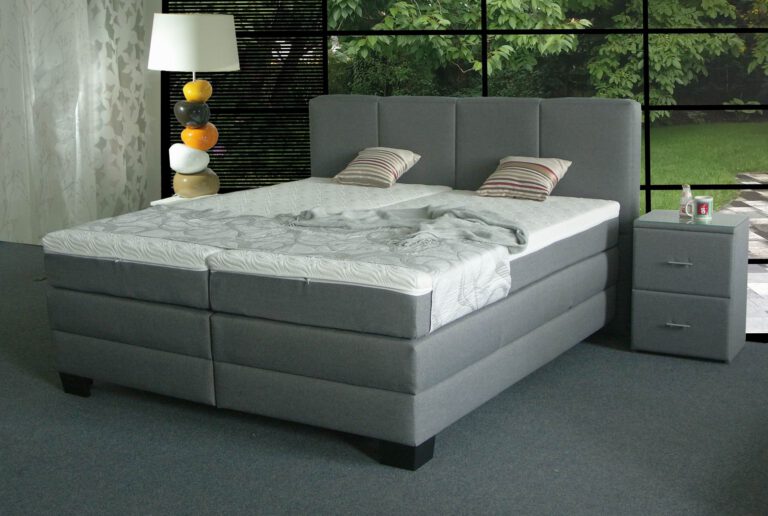 Box spring system with storage space, selectable headboards/feet/fabrics/mattresses/toppers/firmnesses
The box spring bed Turin is based on a stable wooden frame. A 5-turn bonnell spring core with 2.4mm wire thickness or a 7-zone pocket spring core can be selected as base. The spring core of the substructure is embedded in a sheathing of PU comfort foam (RG35). "Softside Boxspring "Our box spring mattresses with integrated or loose toppers are available to match. Choose between bonnell spring core, pocket spring core, multipocket or HR foam core. Decide on the appropriate degree of firmness H1 (soft) to H4 (firm) to match the upholstery to your feelings. Mattress type and firmness can be chosen differently for each side of the bed as all mattress cores have the same height.
Due to the symmetrical construction of the mattresses, it can be turned like a standard mattress to increase its durability. The cover of the topper is removable and washable up to 60°C. Choose between different upholstery materials for the Topper to adjust the mattress to your personal lying sensation
Choose an upholstery fabric from our collection and find the matching headboard. Furthermore you have the possibility to choose different feet to match your living room design. Special sizes and headboard shortening are possible for an extra charge.
In addition, the boxspring bed Turin offers:
Storage space for bed linen and much more.

Gas pressure springs to open the storage space

Head rest adjustment with 4 locking positions

Footrest high position

Storage ventilation

the foot height is suitable for driving under vacuum cleaning robots
Technical data
frame height: 45cm
Lying height: approx. 70cm (depending on mattress height)
headboard height: 115cm
Headboard width: mattress width+10cm
Total bed length: 212cm
Storage height: 16cm
(all dimensions in cm)